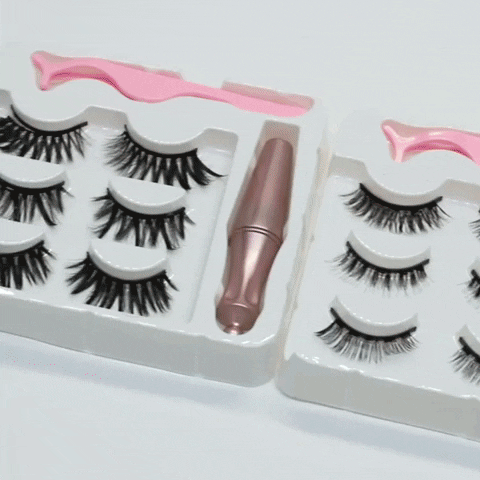 ¿Looking for good quality Magnetic Eyelashes? You found the right product. We introduce you to our brand new Waterproof Magnetic Eyelashes Set.
Number of Pieces: One Unit
False Eyelashes Sort: Strip Lashes
False Eyelash Material: FEATHER
False Eyelashe Length: 1cm-1.5cm
False Eyelashes Band: Black Cotton Band
False Eyelashe Type: Full Strip Lashes
False Eyelashes Style: Natural Long
Manufacturing Process: Hand Made
Quantity: 1box
Item Type: False Eyelash
Size: a box of 2 pairs of false eyelashes
Features
1: extension cheveux naturel humain
2: lashes
3: falsies eyelash
4: mink eyelashes
5: eyelashes for extensions
6: mink lashes
7: eyelash extensions
8: Wedding eyelashes
9: Banquet eyelashes
10: Cocktail eyelashes
11: Line up eyelashes
Specifications
Magnetic False Eyelashes & Magnetic Liquid Eyeliner Set 5 Magnets Natural Fake Eyelashes Extension Waterproof Lasting Makeup Kit
Item: Magnetic Liquid Eyeliner&Magnetic Eyelashes
Eyelashes Material: Handmade Faux Mink Hair
Eyeliner: Contails Ultra-fine Magnetic Particles,you feel completely natural.
Styles:5 Styles eyelashes to choose from
Length:about 1~1.4cm
Features:1.No Glue Needed eyelashes,Convenient and easy to go.
2.Stay put all day,it's easily removed and repositioned.How to use: First,apply the eyeliner,then ,wait a few minutes,last,put the magnetic eyelashes,which"click " to the eyeliner,that it!
-- Grade A fiber, 100% handmade magnetic eyelashes, ultra soft and long
-- 3D 5 magnetic eyelashes: no glue, avoid glue allergy
-- Magnetic eyeliner: use with magnetic eyelashes for easier operation
-- Easy to wear with dedicated tweezers
-- Each eyelash has 5 magnets for better fit. (A lot of false eyelashes on Amazon have only 3 magnets)
-- With proper use and storage, our magnetic eyelashes can be used for many times
-- Universal fits all eye sizes, easy to clean. Use a moist towelette to clean the eyelashes makeup or the residue
-- Ultra-lightweight, you may even forget you're wearing it
Easy to Use:
1. Along the roots of the eyelashes, draw an eyeliner long and wide enough.
2. Wait for the eyeliner to dry totally and prevent eyeliner from blooming.
3. Directly wear magnetic false eyelashes
For Better Use:
1. Magnetic eyelashes can only be worn after the eyeliner is completely dry.
2. If the eyelashes are not pasted firmly enough, you can draw the eyeliner thicker.
3. Always remember to store the magnetic eyelashes in the case when not in use.
4. Gently handle them when applying or removing the magnetic eyelashes.
5. Remove the magnetic false eyelashes off before washing face or showering and sleeping.
Package Included:
1 x Magnetic Liquid Eyeliner
2 x Pair Magnetic Eyelashes
1 x tweezers