Type: Washable Mask
Use: Whole Face
Gender: Unisex
NET WT: 40g
Ingredient: Green tea extract ,Vitamin E, Glycerol
Effect: anti-acne and repair skin
Efficacy: Blackhead removal and fine pores
Suitable for: All skin types and easy to carry
Product color: Green, purple
Features
--100% brand new and high quality products.
--The product adopts the design of rotating head, which is more convenient to use and not easy to dirty hands.
--The texture is fine and smooth, easy to spread and easy to apply.
--The green tea solid cleansing mask contains green tea extract, which can effectively clean the skin pores, deeply clean up skin dirt, adjust the skin's water and oil balance, replenish skin moisture, and nourish the skin.
--Eggplant solid acne facial mask contains eggplant plant extracts, which can effectively relieve the growth of facial acne and reduce the formation of acne.
Moisturizing, it can effectively reduce blackheads, control oil, improve facial dullness,and brighten skin ton
--Small and light, easy to carry.
--Suitable for all skin types.
--It is suitable for carrying out at home, travel, business trip, etc.
Specifications:
Applicable people: general
Skin Type: General
Net content: 40g
Anti-Aging
Moisturizing
 Oil-control
Pigmentation Corrector
Product color: green, purple
Attention: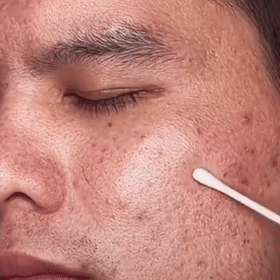 1. Spin out the paste and apply to the face.
2. Apply evenly to the face and leave it on for about 10-15 minutes.
3. After it dries, rinse with water.
note:
Use green tea cleansing solid mask interval time:
--Oily skin: Recommended use interval is 2-3 times a week.
--Dry skin: Recommended use interval is 1-2 times a week.
--Mixed skin: It is recommended to use 2-3 times a week for T zone and 1-2 times a week for U zone.
--Normal skin: once a week is recommended.
Package Included:1*Solid mask
Shipping & Delivery
Do You Ship Internationally?
Yes, we do ship Internationally, and we offer FREE SHIPPING for most of the items.
Delivery Time
Once you get the notification that your orders have been shipped. You will receive your item in approximately 7-15 days for these Countries :
USA, Spain, Canada, Australia, France, Germany, United Kingdom, New Zealand, Japan, South Korea.
12-20 days for these Europe countries:
Austria, Belgium, Bulgaria, Czech Republic, Cyprus, Denmark, Estonia, Finland, Greece, Hungary, Iceland, Ireland, Italy, Latvia, Liechtenstein, Lithuania, Luxembourg, Malta, Netherlands, Norway, Poland, Portugal, Romania, Slovakia, Slovenia, Sweden
20-35 days for these Asian Countries:
Indonesia, Thailand, Philippines, Singapore, Malaysia, Vietnam.
30-60 days Maximum for deliveries to: 
India, Brazil, Mexico, South Africa, and other countries.